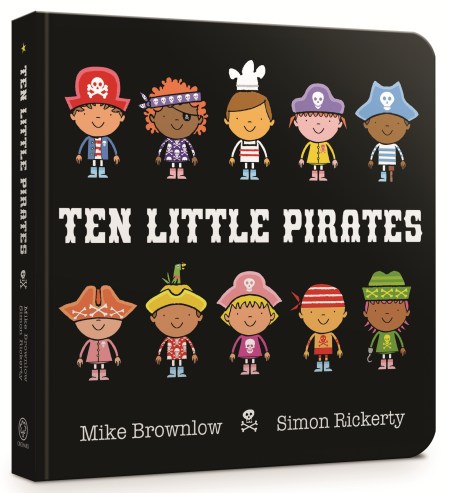 Ten Little Pirates Board Book

Count along with the Ten Little Pirates, in this action-packed, counting rhyme adventure! In a sturdy board book, perfect for little hands to hold.

The Ten Little Pirates are sailing out to sea … But what will the Ten Little Pirates do when they meet a singing mermaid? And a whooshing hurricane? And a HUNGRY shark?

Part traditional counting rhyme, part fun-filled story, Ten Little Pirates is perfect for sharing together.
Read the bouncy rhyming story.
Count from ten to one and back again, as the Little Pirates disappear then reappear.
Spot and count the details on each page.
And join in with all the great sound-words!

The Ten Little series has sold over a million copies worldwide, and Ten Little Bookworms is a 2019 World Book Day pick.

'Traditional counting rhyme given a jaunty pirate twist that kids will love… a rollicking read with an easy rhythm and jaunty illustrations… excellent.'
Guardian
Read More
Reviews
Hugely entertaining... an absolute joy to read aloud. Simon Rickerty's artwork is as vibrant as ever.
A fabulous counting book... will have you giggling.
A rollicking read with an easy rhythm and jaunty illustrations... an excellent addition to books that help with counting.
Bright child-friendly illustrations offer plenty to spot... lively rhyme has potential for noisy storytimes. A winner!
Mike Brownlow's rhymes flow beautifully in nursery-rhyme-like verse while Simon Rickerty's fantastic and colourful illustrations provide the visual thrills.
Hilarious. Will have both child and reader laughing out loud.
Traditional counting rhyme given a jaunty pirate twist that kids will love... a rollicking read with an easy rhythm and jaunty illustrations... excellent.
Perfect to share with young children who are learning about numbers. With its bouncy, rhythmic text and lots of great sound words, this piratical adventure is perfect for sharing again and again.
A rhyming story that helps young children learn about numbers.
Exciting and fun. Stunning.
A great read-aloud treat.
Like a nautical knot, Mike Brownlow's new picture book ties together its counting lessons and bobbing rhymes with intricate neatness. Simon Rickerty's illustrations complement the jaunty verse with lots of humorous details to discover on every page.
Fabulous rhymes weave a clever tale... the abundance of things to spot and count on every page will keep little readers guessing what's coming next.