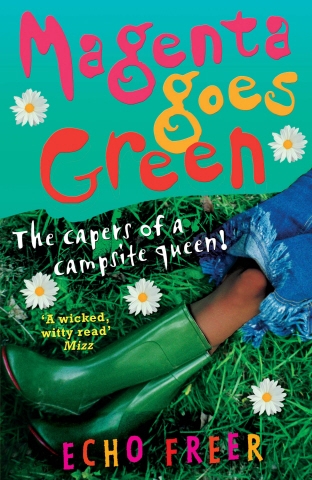 Magenta Orange: Magenta Goes Green
Magenta's in trouble with Daniel again – this time, for snogging the school new-boy Chad Albright on a charity Blind Date. As if this wasn't bad enough, she's been picked to go on the school outward-bound camp. It's not really her cup of tea – mix Magenta with any physical activities, and here comes disaster …
Read More
Reviews
Echo Freer has a light touch with comedy, and the ability to create memorable characters.
I loved this book ... The suspense was amazing
Hilarious and also a little romantic
Magenta Orange: 'A wicked, witty read - 5/5.'
Thanks to feisty central character - and undertaker's daughter - Modesty de Mise, Diamond Geezers is a breezy, contemporary read for girls. A gripping mix of romance and thriller.
Magenta is an absolute horror of a heroine ... Echo Freer has got her absolutely right
Blaggers: A lively and fast-paced story ... Readers will enjoy the humour and complexities of the plot ... a fun read.'