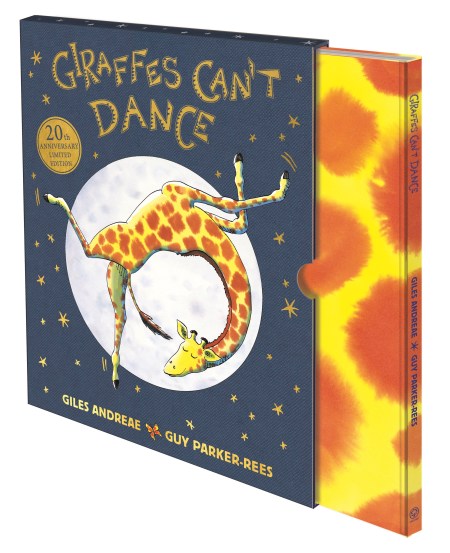 Giraffes Can't Dance: 20th Anniversary Limited Edition

A beautiful 20th Anniversary Gift Edition of this much-loved classic picture book about being yourself and finding your own tune.

Gerald the giraffe longs to go to the great Jungle Dance, but how can he join in when he doesn't know how to tango or two-step? Everyone knows that giraffes can't dance … or can they?

Giraffes Can't Dance has been a family favourite for 20 years. A funny, touching and triumphant story, it has sold over 4 million copies worldwide. Now in a beautiful limited-edition hardback, complete with a foiled slipcase, this is the perfect present for every family.

A highly collectable edition for fans old and new.

"All toddlers should grow up reading this" – Daily Mail

"A modern classic" – Baby and Me

"A joyful read about an outsider who finds acceptance on his own terms … there's also a simple moral about tolerance and daring to be different" – Junior

"A fantastically funny and wonderfully colourful romp" – Daily Telegraph

Read More
Reviews
Giraffes Can't Dance ... has been a bestseller for more than 15 years - and for good reason ... There's a very powerful message in there about daring to be different, and accepting others too
Brilliant use of colour, a continual sense of movement and high good humour all help to make this picture book richly enjoyable.
A fantastically funny and wonderfully colourful romp
This rhyming story will delight young children and get them popping along with the rhythm
This is a lovely story that incorporates several dance forms including waltz, tango, Scottish reel amd rock n roll. I have also used the story to introduce infant classes to Beethoven's Moonlight Sonata and had them playing along with it
This rhyming poem is excellent.
Managed to capture the hearts of countless children. A modern classic.
A can-do story with lively pictures and an immensely pleasing text.
A wonderful, light-hearted story.
A lovely rhyming picture book about understanding differences
A hit with young children since it was first published 10 years ago
A gloriously colourful and lively book with a strong message.
Extraordinary and exuberant...a terrific tale and a positive message about celebrating difference.
Superb...a wonderfully funny book.